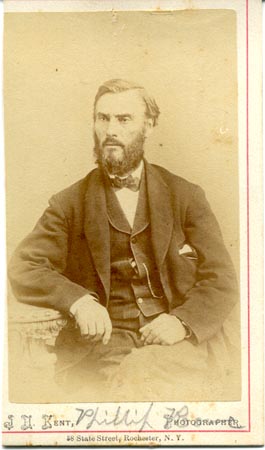 Phillip Rowe, original, courtesy of Nancy Benton
The photographer of the above photo was J. I. Kent at 18 (looks like) State Street in Rochester, New York.
Phillips Rowe, b. abt. 1825 in New Jersey, was the husband of Eliza Ann Noyes, daughter of James Noyes and Rebecca Russell, Eliza being a sister of out ancestor James Noyes who married Sally Marble and moved to Michigan.
Eliza was born 1823 April 14 in Ontario, Wayne, New York. The Family Record of James Noyes and Rebecca Russell as copied by Sarah Melissa Noyes Slater Anderson, granddaughter, only gives Eliza A. She is recorded however as Eliza Ann in the Noyes Family Genealogy – Generation No. 5 – James Noyes and Rebecca Russell, compiled by Nancy Benton from the Family Bible copied by Sarah Melissa Noyes Slater Anderson. In it, Eliza Ann is given as having stated her father, James, was a great student of history. Whether this was anecdotal or recorded by her or a contemporary of Eliza I don't know.
The census data:
Coldwater, Branch, Michigan
Pg. 684 Roll: M432)347, Image: 152
7 114/139 Philip ROW 34 wagon worker $400 b. NY
8 Eliza A. 26 b. NY
9 Amanda 16 b. PA can't write
COMMENT: Amanda, age 16, in the household, could not be a daughter of Eliza. She is perhaps a relative of Phillip.
I've been unable to locate the family 1860 and 1870.
In 1880, Eliza and her husband are living next to her sister Mary Ann Noyes and her husband Clark (A. C.) Briggs, in the census as A. W. Briggs.
The two children of the Rowe's are given as adopted.
1880 IA, MILLS CO. CENTER

(census excerpt)

A. W. BRIGGS 51 VT farmer parents b. VT
M. A. 49 b. NY parents b. NY
Alta CRANE daughter 24 b. IA teaching school
Kate BRIGGS 17 b. IA
Charlie 15 b. IA farming
Winnie 12 b. IA
P. ROWE 65 NJ farmer parents b. NJ
Eliza 55 b. NY parents b. NY
Harry 18 b. IA farming (adopted son) b. IA parents b. NY
Alice 15 b. IA (adopted daughter) b. IA parents b. NY
William DUNAGAN household
D. C. BRIGGS 60 b. VT farming parents b. VT
Catherine 52 b. NY parents b. NY
Ida 20 b. IA
Carr BEEVE 26 b. MI farmhand
Salem CURTIS 26 b. OH farmhand
Adison COLWELL 18 b. IA farmhand